Silver sponsors

Bronze sponsors

Exhibitors
Exhibition Schedule
The exhibition area is located in the "Rettorato – building O1" and will be open at the following times: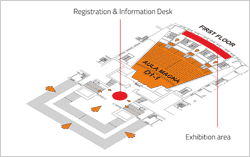 Sunday, June 30                       16:00 – 22:00
Monday, July 1                          08:00 – 17:30
Tuesday, July 2                         08:00 – 17:30
Wednesday, July 3                    08:00 – 17:30
Thursday, July 4                        08:00 – 13:30

Please note: June 29 is bank holiday in Rome and Sapienza University will be closed.


HOW TO JOIN EURO2013
If you are interested in the Operation Research and are active player in this field, we kindly invite you to buy one of the sponsorship packages or exhibit. You will meet more than 3000 attendees from more than 70 countries, build up new partnerships and alliances, display your products and widespread information on their services.