Social dinner
Caffé delle Arti, Via Gramsci 73
www.caffedelleartiroma.it
Wednesday, July 3rd | 20:00 – 23:00 hrs
Cost per person: euro 70,00
Entrance for EURO dinner: Via delle Belle Arti, 131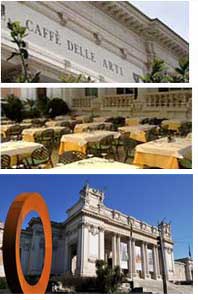 Social Dinner will be held at Caffé delle Arti adjoining the Galleria Nazionale d'Arte Moderna e Contemporanea. Established in 1883 for the purpose of documenting the "living" art of that time and now displaying important collections of the 19th and the 20th centuries, the museums is one of Rome's highlight.
Participants will enter the Caffé delle Arti from the Galleria and therefore have the opportunity to pass through a few halls of the museum.
Getting there
Tram: 3 and 19, viale delle Belle Arti
Bus: 88 – 95 – 490 – 495
Underground: A line -  Flaminio station (600 metres approx)
Taxi pick up point piazza Don Minzoni (400 metres approx)  
NOTE: Thanks to a great attendance the event is now sold out. If you are interested to take part in, please send an e-mail to [email protected], we will be glad to include your request in waiting list and will inform you in case of availability due to cancellations.
---
Welcome Reception, Get-Together party
Sapienza University of Rome, Piazzale CIAO
Sunday, June 30th | 18:00 – 22:00 hrs

Take advantage of the opportunity to get your badge and congress material one-day in advance and join the Get-Together party.
Participate in the cocktail party, you will get yourself acquainted with the University campus where the congress will take place and drink a glass of Italian sparkling wine!
The Get-Together Evening will be enlivened by MuSa Classica orchestra.
[email protected]
Sapienza University of Rome, Piazzale della Minerva
Tuesday, July 2nd | 20:00 – 23:00 hrs
Cost per person: euro 30,00
Rome: among flavours and music. Great fun and networking opportunity. A night spent together inside the campus enjoying mediterranian food and music.
The [email protected] will be enlivened by MuSa artists who will play jazz and choral music.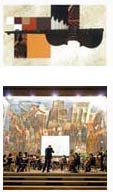 MuSa started in 2006, and is now seven years old. All of members are supported by a strong motivation to share the pleasure of music with people, believing in the cultural and human value of this activity.
MuSa, is an acronim of «Musica Sapienza», and reminds of the philosophy of the group: playing, listening to and living music in the largest university in Europe.
Their six years of activity have been full brilliant results as MuSa has been giving impulse to the promotion of knowledge, culture, education and solidarity inside the "Sapienza" academic community.